This month's good media idea comes from outdoor footwear brand, Merrell and features a very cool integration involving virtual reality! Last month in partnership with Rolling Stone magazine, the brand brought "the Italian Alps to Park City, UT" at the Sundance Film Festival. The immersive first-of-its-kind marketing experience called Trailscape had festival-goers walking across rickety bridges, dodging falling rocks, and gazing at amazing views. This was all to launch a new boot - Capra (a very film-y name).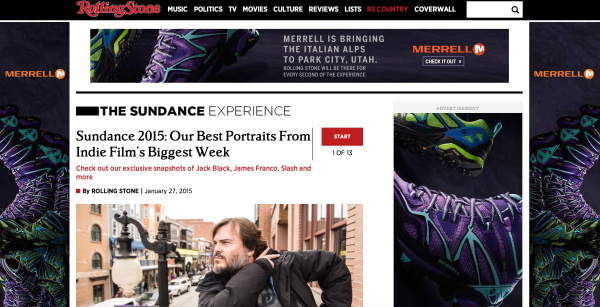 The partnership with Rolling Stone included sponsorship of a concert by indie rock band, Local Natives, an interview booth with movie reviewer Peter Traveler, and ad exposure on their website and in print. There were of course plenty of Merrell products for sampling on-site as well. With a social component to boot (pun intended) with hashtag and plenty of Twitter activity around it, this was a fully immersive marketing campaign for the brand, too.
Read more about it and watch a video here.
We love this idea because it is a perfect marriage between all brands involved - Sundance, Merrell, Rolling Stone, even the indie band and the location of Park City. The strength of each entity on its own and their shared mutual target of indie, outdoorsy, festival-attendees made this integration even stronger. Plus the creativity and experiential nature of it made it buzz-worthy, getting people talking about Merrell and raising awareness about the new product.
What good media ideas have you seen lately?