This is the first post in a blog series called "Good Media Idea Makers," helping you get to know the McCulloch+Company team on a more personal basis. First up is our awesome summer intern!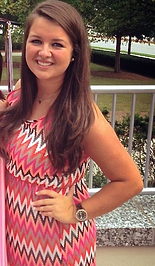 My name is Rebekah White and I am currently the summer intern here at McCulloch+Company. I will be a senior at the University of Georgia in the fall with a major in Advertising in the Grady School of Journalism. I grew up in the small town of Statesboro, GA and graduated from Bulloch Academy in 2011 with 30 classmates. Most of my family still lives in Statesboro, including my mom and step-dad as well as my 13-year-old brother and 19-year-old sister. I'm an animal lover and rescued an abandoned kitten off the side of a highway a few months ago when she only weighed 0.7 lbs. Her name is Mia and she is now a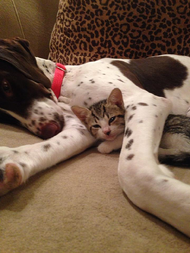 healthy and playful kitten who loves our home in Athens with my roommates and their two dogs (yes, she does snuggle with the dogs). While I've been at school at UGA, I joined the Kappa Kappa Gamma sorority and got involved with philanthropy work through UGA Miracle, which fund raises for Children's Healthcare of Atlanta.
Aside from my love for UGA Football, another one of my passions is traveling. I have gone on a few trips and vacations around the U.S and Mexico but never realized how much of an impact traveling could have on me until I studied abroad in Cape Town, South Africa last summer. This trip was life changing; we did everything from classroom lectures on the history of the Apartheid and Nelson Mandela to cage diving with Great White sharks and riding elephants on a safari. The curriculum of the Global LEAD program was based on developing leadership skills and incorporating service learning. We spent the first part of the trip touring the city before embarking on a week long "adventure route" along the coast of Africa and then returned to Cape Town to volunteer in a local township. I read an article in the Huffington Post not too long ago about the "6 Lessons Travel Teaches You That College Never Will" that perfectly described the lessons I learned while studying abroad. I am hoping to study abroad again this winter in Australia and New Zealand.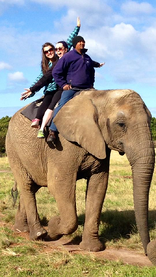 On the topic of media, I love to follow the news on Facebook and Twitter and I'm constantly reading updates and articles from Ad Age, Adweek, Time Magazine, Huffington Post and many others. It really fascinates me how fast the media world is changing with technology today and it makes me even more excited to be immersed in the industry as a soon-to-be college graduate. The Cannes Lion Festival that took place last week really caught my attention by showcasing how powerful advertising can be through the amazing creativity shown in campaigns from all over the world. Whenever I get some downtime, I'm usually watching Grey's Anatomy or Scandal on Netflix or seeing what the new apps are on my iPhone. Some of the apps I spend the most time on are Instagram because I love sharing and editing pictures and Facebook for the latest news updates and staying in touch with friends and family.