One of my New Year's resolutions for 2015 was to find a rewarding job. Checking my messages while landing in Atlanta after an unplanned two week vacation in Argentina, I received a voicemail from Jeff Jones, Media Director at McCulloch, asking me to come by the office for an interview. Three days later, I was being offered the position as Digital Coordinator. Why did I choose to accept the job offer? Because of this: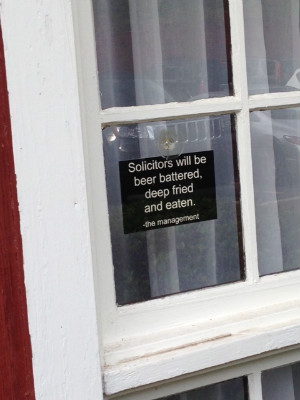 **It Reads: "Solicitors will be beer battered, deep fried and eaten - the management"
I am known for appreciating moments, experiences, and places that make me laugh. I appreciate good sarcasm and great energy at the work place. After reading this door sign, I went into to my interview knowing that I was going to fit in perfectly at this place.
Migrating from Colombia when I was thirteen taught me to be resourceful and hard working. Seeing the opportunities because of my experience during high school, I made it my goal to motivate other Hispanic students to seek a higher education. Thus in college I was a founding member and Marketing Director of the Hispanic Organization Promoting Education (HoPe) a non-profit organization whose mission is to increase graduation rates among Hispanic students through education, leadership, and community service. If you want more information about HoPe click here.
After graduating from Georgia State University with a degree in Marketing and International Business, I worked as the Marketing and Communications Coordinator at a popular fast-casual restaurant chain. In a year and 1/2, I was fortunate to gain experience in various areas of marketing. I managed $1M advertising budget for 50 locations, created and maintained social media strategy for corporate and individual locations, purchased media for 50 different markets, and more.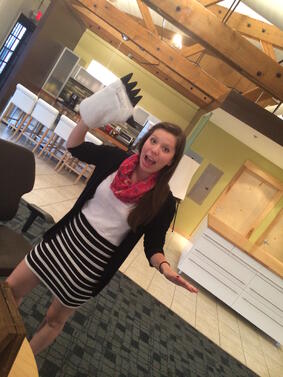 In November of last year, I decided it was time to take a risk and transition from client side to the media agency side. For four months, I spent time with my family in Colombia, was stranded in Argentina for five days, and worked as a TV show/movie extra. These experiences provided me with new perspectives, fresh ideas, and creative approaches that I bring to the table as a Digital Coordinator at McCulloch.
I'm an inveterate traveler, food devotee, futbol (soccer) aficionado, and animal lover. I don't own a TV but Netflix and Hulu is all I need; my favorite TV shows are Orphan Black, Orange is the New Black, House of Cards, and FRIENDS.
All in all, I've accomplished the majority of my New Years resolutions – travel to a new country, find a rewarding job. Although, I have yet to work on crossing off "going to the gym" and "stop eating so much pizza."