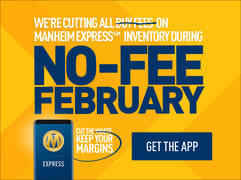 The primary goal of any agency is the success of its clients. The agency's role is paramount to helping the client achieve their marketing goals by providing sound strategy, innovative tactics and seamless execution.
Manheim, a Cox Automotive Company, is the world's largest used vehicle marketplace, managing transactions for over eight million vehicles annually. The Manheim app, Manheim Express, was introduced in mid-2018 but needed a significant lift in awareness and usage during 1st Quarter 2019. McCulloch+Company met that challenge and created media programs for the 2-Phase campaign rollout.
"Cut The Waste" campaign set the stage by building awareness and educating the marketplace
"No Fee February" provided additional incentives for increased activity among current customers and adoption among prospects
When developing the media strategy for Manheim Express, there were two key communication goals: Awareness and Adoption.
Awareness: As a new product, we first and foremost needed to get the word out about WHAT the product is, and HOW it differs from other Manheim products. Awareness is just as much about 'what is this new product?' as it is about 'how is it different from what I've been doing?' Additionally, another objective was to change behavior that Manheim customers have grown accustomed to, and to steer perception of what Manheim is as an offering.
Adoption: Many customers have been doing business with Manheim the same way for years, and some might not be familiar or comfortable with new technology. So, making current customers and prospects aware of the new product, what it does, and what value it provides for customers is paramount.
Manheim Express is no different than any client with Brand Equity when they are trying to launch a new product into the marketplace. It is important to have both Awareness and Adoption as part of the overall planning process. The critical question is: How do you achieve both? One of the keys for Manheim Express was the "Cut the Waste" campaign that launched in January to provide customers with much needed information about the product and how it will help them increase profits.

Manheim Express is designed for use by vehicle dealerships, so the media had to be hyper-targeted to reach automotive dealership principals, owners, and inventory managers. McCulloch+Company devised a multi-channel digital strategy to reach auto dealers within Business-to-Business (B2B) publishing environments, and via programmatic efforts to reach dealers across thousands of brand safe consumer websites. The campaign was designed to motivate site visitors to download the app, browse inventory and purchase.
Business-to-Business (B2B) digital publishers:
Display and pre-roll units
Website, e-newsletter and e-blast
Advanced Digital / Programmatic:
Native content, pre-roll video and social media units
IP and CRM targeting, auto auction mobile geo-fencing, retargeting
"McCulloch+Company has been a partner to us, helping to advise and deliver on the best in class media strategies and tactics to drive results. Aside from securing key media spots in which to promote Manheim Express, the McCulloch team provided recommendations on how to optimize our efforts."
- Shari Diamond, Sr. Marketing Manager, Manheim Express
In February, Cox Automotive's Manheim Express launched a new incentive campaign with lofty expectations. For this promotional campaign, "No-Fee February", the goal was to drive an increase in app downloads and purchases of Manheim Express inventory. Additionally, there was a target to sell over 3,000 Manheim Express vehicles by the end of March. The McCulloch+Company team designed a campaign with similar digital strategies as "Cut the Waste" that helped exceed those goals.
In addition to the paid media efforts instituted by McCulloch+Company, Manheim Express was proactive about equipping their sales team with information and collateral about the promotion. There were also local field teams (auctions) who were integral at spreading the word and engaging. This concerted, holistic approach was instrumental in the Manheim Express campaign success.
With all paid media and internal sales efforts running in unison, the campaign over-delivered. The goal of selling 3,000 Manheim vehicles by the end of March was exceeded by 33%, delivering nearly 4,000 units. The campaign also delivered 838 new buyers to Manheim Express, 4x more purchases in February than January and 3x more buyers in February than in January.
"We considered this a successful campaign as it drove engagement with the product through incentivizing purchases, and the numbers for buyers & purchases Month over Month have continued to grow since February as well."
- Shari Diamond, Sr. Marketing Manager, Manheim Express
To achieve results such as these, it is important to think through every piece of the marketing/media campaign and ensure they are in sync. The internal efforts that Manheim Express instituted complemented the paid media efforts that McCulloch+Company executed. This strong client-agency relationship was the key to having a success campaign.
If you are interested in learning more about Manheim Express or you are looking for an agency partner who will provide you with a holistic approach to media planning, then contact us, we are ready to work with you and get you results.