In golf, a good caddy is invaluable: providing advice on club selection, reading the contour of the greens and calming a nervous golfer before a critical shot. An irreplaceable caddy relies on his local knowledge to guide a golfer through the challenges of each round. For a few minutes, let me be your marketing caddy. I've taken a few of the most over-used golf phrases and applied them to marketing truths. Hopefully, you find this helpful and somewhat amusing... and won't be doing this to me by the end of this post: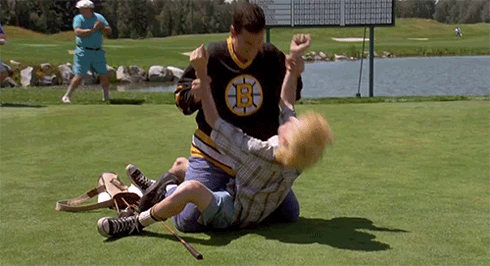 1. "Let the big dog hunt"
Usually uttered before a golfer unleashes his driver on a long, wide-open golf hole. If you can't put some distance on the ball, you'll never be in position to make par or better.
Marketing implication: With media consumption becoming more and more fragmented, brands must consolidate efforts into those channels that have the best chance of success. Simply, go big or go home. Outshout your competition. Multi-channel programs are still a must, but don't dilute your programs to the point of being ineffective. Find one element of your media plan that merits a large presence and OWN IT. If you're running TV, buy the Super Bowl. If you're a digital marketer, consider a direct premium buy or a site takeover. Don't putt from the tee box.
2. "Be the right club"
When you strike the ball cleanly and it's headed directly at the flag stick, this is the correct time to yell, "be the right club!" Hopefully you didn't select a 7-iron when an 8-iron would get you there.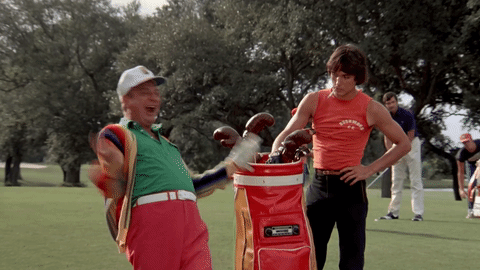 Marketing implication: Research and collaboration is critical. Take time to analyze primary and secondary research along with expert opinion from your marketing team and agency partners. Look at your past successes and those of your competitors. Don't be paralyzed by the over-analysis, but be measured and calculated. Once the ball is in the air, have faith in your process and trust your decision. If you happen to miss the mark, it's usually just a chip and a putt to the hole. Learn from your miscalculation and adjust for the next time.
3. "Hit a house"
If you hear this phrase on the course, "DUCK!" This almost always results in a lost ball and sometimes a broken window. This is the result a really bad swing or too many beers on the back nine.
Marketing implication: If your marketing is off course, figure out what's going wrong and correct it immediately. Most importantly, don't continue to spend money on efforts that are ineffective or don't resonate with your customer. Your marketing programs should have measurement built in: a clear path to sales acquisition, or research that illustrates results. Direct your resources to those channels that contribute to brand lift, leads and sales. Fix your swing!
4. "Putt for dough"
Some golfers spend hours on the driving range, only practicing with their driver. A good golfer recognizes that a missed two-foot putt counts the same on the scorecard as an errant drive.
Marketing implication: The greatest media plan without attention to implementation can be devastating. This can result in wasted budget, frustrated team members and (ultimately) a bad customer experience. Your entire team marketing must be in sync: research, creative, media, account management, analytics and trafficking. Even the accounting department has a critical role, ensuring that media vendors invoice correctly. Media is oftentimes the biggest line item in your marketing budget. Even a small oversight can cost a brand exposure and revenue. Make sure your team is as good with the implementation as they are with the brainstorming.
5. "It's a Cinderella Story"
If you haven't seen Caddyshack, stop reading this blog and go stream it NOW. Not only is Carl the Greenskeeper one of Bill Murray's signature roles, but it teaches us about putting people in a role to success. Yes, Carl was motivated, resourceful and persistent. But, probably not the right guy to rid Bushwood Country Club of its varmint problem.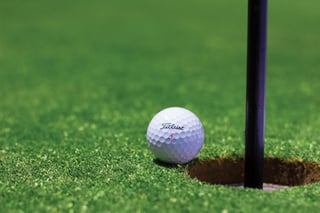 Marketing implication: Make sure you've set up your marketing team for success. Enthusiasm is a great characteristic, but on its own does not create effective creative or media programs. Be selective when choosing internal personnel and external agency partners. Ultimately, your team should combine subject matter experts from several marketing disciplines (media, creative, PR, social, research, etc.) who work collectively to solve your marketing challenges. Collaboration will help create intelligent, effective campaigns and keep that one strong-willed person from blowing up your marketing programs.
As in golf, practice, patience and an appreciation of the process will help you be successful. After all, nothing is more rewarding than a successful marketing plan. Well, maybe a hole in one.