A couple of months back, I wrote some tips on how to make meetings run much more smoothly and increase productivity. Another reality of the advertising - and business - world is the prevalence of conference calls, and they can be just as painful if not done right. So below are a few tips on how to handle these necessary evils, and help you enjoy your conference calls as much as the people in this stock photo.
Conference calls, video conferencing and web conferencing are becoming more and more popular. As conferencing technology become increasingly sophisticated, they can help increase efficiency and enhance the collaboration process. Companies are increasing use of off-site conferencing to increase regular communication with clients and vendors, and reduce time and travel costs incurred by in-person meetings.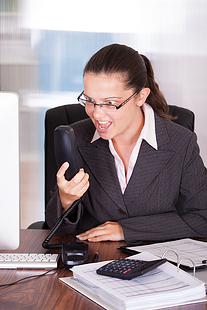 Without question though, face to face meetings are the most productive. The interaction and nonverbal communication from being at the same table is invaluable. However, conference calls are oftentimes necessary due to time constraints and the need to include participants from multiple locations. For those that are conferencing in from your home, car or on the golf course, here are a few helpful tips for ya'll (that's southern for youz guys):
Please turn off the TV and clear the vicinity of small children and your cute little yapping dog Fluffy. I once had my dog sneeze while conducting a conference call at home. The "Bless you" from another call participant was probably wasted on my hound.
Be sure that your lawn mowing crew is not scheduled to trim the hedges during your allotted conference call time. This may be a slight distraction.
Don't volunteer that you're taking the call from home because your pool contractor is supposed to stop by. This probably will create eye rolling (and potentially some obscene gestures) on the other end of the phone. Yes, this really happened. This also implies that you should not talk to your pool contractor, neighbor, or mail delivery person while talking on the conference call. Stay focused.
Be sure to inform conference call participants NOT to put their line on hold. On a recent conference call, we were subjected to a Casio serenade from the participant's on hold music for what seemed like an eternity.
There you have it - just a few tips to help make conference calls more productive. The same rules for efficient and effective meetings apply here as well, like having an agenda, summarizing decisions made, and setting realistic deadlines. Remember: be brief, decisive and action-oriented. Here's to more productive meetings and calls for you in the new year!
McCulloch+Company is an advertising media services company that integrates the innovation of digital media with the strengths of traditional paths. Founded in 1984 and located in historic Roswell, Georgia, McCulloch+Company is regarded as one of the Southeast's preeminent media agencies. The agency is skilled at managing B2B and B2C clients in a multitude of industry categories. Click here to contact us for a free media plan evaluation.