Just in time for Valentine's Day, this month's good media idea highlights Victoria's Secret and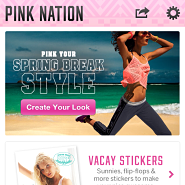 their in-app mobile advertising campaigns. They are a great example of a retailer that is activating the "raving fan" base of app users to encourage repeat traffic to go buy more - and through strong creative and new innovative technology they've introduced within their app. The latest "Spring Break" campaign features a scavenger hunt of sorts where consumers must find an image of a model in front of the letter "P" and scan it using image recognition technology in the app, to get offers and deals unique to the app. They also have technology that integrates music playlists within the app as well as other games and unique features. All of the campaigns tie in traditional media as well as eBlasts and SMS, a true multi-channel approach which we always believe is a good idea. It seems to have paid off as well as with strong click-through rates for in-app ads as well as measurable consumer engagement and strong sales.
You can read more about these campaigns here.
Honorable mention this month goes to Royal Caribbean and their Olympics TV campaign that highlights a longer form competitive series on their Youtube channel featuring several summer Olympians including American gymnast, Gabby Douglas. It's good timing as it's running during the Olympics featuring Olympians - and this is the time of year that people begin planning spring and summer vacations I suppose. It is also a great idea in terms of intergration with social. But visiting their Youtube page it does not seem to have taken off - largest views for any of the videos was only 12,000. I doubt that was their goal!
What good media ideas have you seen lately? Post a comment and let us know.
McCulloch+Company is an advertising media services company that integrates the innovation of digital media with the strengths of traditional paths. Founded in 1984 and located in historic Roswell, Georgia, McCulloch+Company is regarded as one of the Southeast's preeminent media agencies. The agency is skilled at managing B2B and B2C clients in a multitude of industry categories. Click here to contact us for a free media plan evaluation.