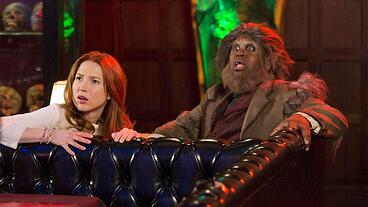 Unless you've been living under a rock (or underground bunker) you have likely heard about the recent phenom of a show from Netflix called Unbreakable Kimmy Schmidt. That's right - it's the little comedy show that was released a week after House of Cards Season 3, but quickly surpassed it in viewership. It stars Ellie Kemper from The Office, and a breakout Broadway star Tituss Burgess (who yours truly starred with in a community theater show back in 2000. No kidding - see picture below). Beyond the critical acclaim it has received, it can now add several Emmy nominations to its list of accolades, just announced last week.
Kimmy has a whole assortment of guest stars in its 13 episode arc, including Martin Short, Jon Hamm, and co-creator Tina Fey. It is a quirky show very much in the vein of another of Fey's creations, 30 Rock, and it tackles some heavy themes including race and the bizarre way our uber-connected culture creates celebrities over night - and often for very weird reasons. What you may not know is that this show was originally developed, shot and produced for NBC. And if you've seen it, you know with its sluggish start and often a little "out there" humor, it likely would have only made it one or two episodes on broadcast before being canceled. Instead the entire season was released all at once on Netflix, and it was practically an overnight sensation producing many viral videos and reaching arguably a wider audience than broadcast would have offered.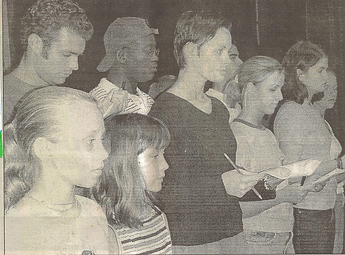 (Tituss is in the middle, and that's me in the back row to the right - you can see my nose and eye :)
My theory is that a show like Unbreakable can only survive on Netflix. Broadcast networks can't afford to support a show until it makes it. Time slots are too hard to come by, the competition too fierce, and the advertising dollars too scarce to afford that risk. Risky content that takes a while to find its footing is not a recipe for success when it comes to broadcast. To their credit, the higher-ups at NBC realized this, and since they developed the show they had a stake in it finding the best home to succeed*. The show's co-creator Robert Carlock spoke about this last week in responding to the Emmy nominations. To most showrunners, being sold to Netflix after being developed for a major network would seem like a death wish; but Carlock and others could see the advantage and freedom this deal brought - as well as a guaranteed second season - and they are still reaping those benefits.
There is no denying that the old TV model has changed - the one that demanded high ratings in premiere week for a show's survival. That's still the norm in broadcast, sure - but broadcast is no longer the only game in town. Netflix, Hulu and other streaming services like them with their original content offerings have turned that all on its head. They cater to the on-demand generation of millennials and have overhauled the entire eco-system- and the Emmy nominations they are receiving further legitimizes this format. Now with binge viewing the preferred way to watch, broadcast is finally sitting up and taking notice. Earlier this summer, NBC tested binging for one of its summer shows, Aquarius starring David Duchovny. Plus, with the growth of online streaming (which we've followed extensively on our blog) and more channels seemingly offered daily, what we think of "TV shows" and how we watch TV will continue to evolve. Content is still king, and good content has more distribution channels than ever to find a home and thrive.
I think my theory has legs given Netflix's track record. It has given life to important work using its platform to help it grow from a niche taste to a broader audience. Breaking Bad creator Vince Gilligan has attested to this fact, going so far to say Netflix kept it on air. Perhaps it is the nature of binging that causes this allowing audiences the immediacy of seeing more of a show, indulging a craving for more rather than delaying gratification. The all-at-once format allows for buzz to build and creates a sense of urgency to see it all before you read a spoiler on Twitter. Not every show works this way - they must be written well to encourage binge viewing, must have a brisk production schedule to have an entire series completed - and this all has to be factored in on the front end.
From an audience standpoint, Kimmy being "relegated" to Netflix wasn't too shabby, either. As their audience grows (expected to reach 43.5 million US subscribers by Dec) they become an even larger competitor for consumers' time and attention. You could even make the argument that Netflix and other platforms like it are effectively acting as competing networks. They are all in an "arms race" to grow their content libraries to compete and gain more market share. Which brings us to the main question - how does this affect advertisers? Given that Netflix's business model is based on subscribers and not advertising, its immediate effect seems limited. These higher costs to beef up and produce content has some theorizing that Netflix may eventually have to introduce ads if they do not want to increase subscriber fees and remain competitive. Either way, Netflix's prominence in the space has revolutionized the content creation realm of TV helping people like my friend Tituss find an audience. I do not doubt that someday soon this will turn into an opportunity to help brands get in front of customers. I'll be streaming to see!
For our creative friends, here's a cool look into the design behind the look and feel of Kimmy. Enjoy - and thanks for reading!
*For what it's worth, the same thing happened to another The Office alum, Mindy Kaling. Her show, The Mindy Project will begin airing exclusively on Hulu (an ad-supported platform) next fall.