When trying to reach densely populated city centers a media idea we have explored is mural advertising. Although it is a more permanent option than a billboard, it is a creative way to get a brand's message out and definitely adds a "cool" factor. It's also a way to get exposure despite limited OOH inventory which can be the case for a lot of cities - especially if you need to go to market quickly.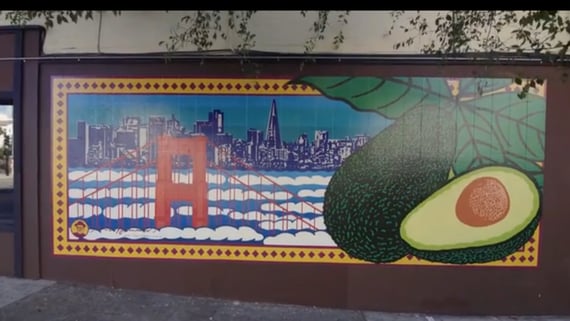 These factors and more were likely on the minds of agency MullenLowe L.A. and The California Avocado Commission when they created this month's good media idea. For their recent "California by Nature" campaign they commissioned famous album artist (The Beatles, The Rolling Stones) John Van Hamersveld to paint a street mural in San Francisco featuring the fruit and the city's skyline. Now the actual mural has no visible call-to-action - which we think is fine as this should be more of a branding play - but there is a pretty clever social/digital tie-in. If photographed with Snapchat, the California Avocado Commission's logo appears in a custom filter on the social app. Read more about the idea and watch a video about it here.
We have considered this idea for new mixed use real estate developments as well as consumer brands that want to reach city dwellers. There are several vendors that execute these projects (finding the artists, helping scout locations, receiving permits, etc.). To learn more about how we can help you uncover good media ideas to showcase your brand, contact us today.
McCulloch+Company is an advertising media services company that integrates the innovation of digital media with the strengths of traditional paths. Founded in 1994 and located in historic Roswell, Georgia, McCulloch+Company is regarded as one of the Southeast's preeminent media agencies. The agency is skilled at managing B2B and B2C clients in a multitude of industry categories.