Many of you may have no idea who DJ Khaled is or the term "Major Keys", and that is fine. I had no idea until my millennial Personal Trainer told me about them during our first workout together, and every workout since.
It typically goes like this..."Hey Drew, what's the major key?" to which I reply, "Stretching". Yes, that is a major key, especially when at the gym and trying to get my slow-acting, 44-year-old muscles to work.
So, this got me thinking over the holiday break, what are the "Major Keys" in the world of media. This blog post examines a couple of them.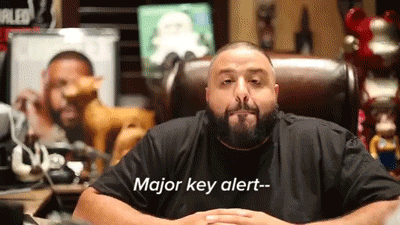 Learning
In the world of media planning and buying, things are continually changing and if you aren't up on the latest news and trends, you can easily get left behind. I was out of the agency business for a year and it took me personally almost a year to get caught up on everything new and there was sure a lot for me to catch-up on. This also goes for your understanding of your clients' needs. Clients' needs will change and a good media agency/client relationship is one built on understanding and shared knowledge. The old adage that you can't teach an old dog new tricks doesn't fit within the landscape of media and those that don't continue their education will get left behind.
If at first you don't succeed....Try Again
What worked yesterday doesn't mean it will work today. I've put together a ton of media plans, and many of them are not like the one before. Sure, there are some similarities, but for the most part you continually make tweaks to them to continue to deliver results for clients. I had one client that we ran 2 campaigns a year for and each campaign was different. Over the course of 3 years, there were 6 distinct media plans. It is the continual quest to make it perfect. So do not fret if a plan doesn't deliver what you expected; there is always a way to make it better and improve upon it.
Expand Your Basket
Putting all your eggs in one media basket is never a good idea, especially in today's multi-media landscape. With people consuming media from so many different places, it is a major key to be sure that you expand your basket to include several tactics that allow you to reach your customers where they are consuming media. While digital media continues to expand and take up more of our usage, it is still important to look at all media tactics before undertaking any media campaign. Any good media agency will, during the planning process, sketch out any and all ideas and then flesh them out before making a media recommendation to a client. At McCulloch+Company, we gather as a team and simply just start talking about ideas. We may come up with 15-20, but once those are fleshed out, it comes down to 3-4 major key tactics.
Change - On The Fly
While you may have a media plan in place for the year, that doesn't mean it will stay the same the entire year. Client goals, budget changes, new opportunities or even lost opportunities will occur and the mentality of "set it and forget it", just doesn't jive in the media world. You need to be able to change on the fly and not blink while doing it. We have seen approved media plans changed several times before initial launch date because things happen and that is OK. That is why we, McCulloch+Company, are here and this is what we are good at.
So as you enter into 2017, first be sure to follow the Media New Years Resolutions and then stick to the Major Keys. This DJ Khaled guy may be onto something here.