It's been a few months (okay-several) but we like to showcase good media ideas we have seen. This month we are featuring immersive mobile units. As smartphone penetration across the US reaches 80%, we know that a mobile campaign is almost always a good idea, even for B2B clients. We have done some exciting campaigns for some of our B2B clients including geofencing around important conventions - and it makes sense given that 42% of B2B decision-makers use a mobile device in their purchasing process. (That's up 91% by the way, according to Think With Google).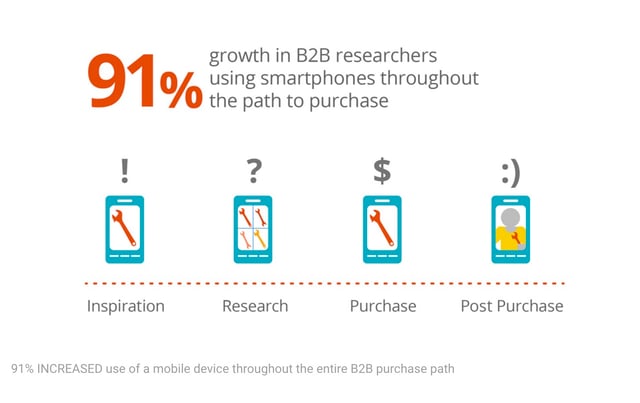 But when you think about building an effective mobile campaign, creative execution has to be a consideration. We are all consumers and probably each have our own stories about annoying & invasive mobile ads - accidentally thumbing over a small ad that sends us out of the content, or full screen takeovers with the close-out "x" nowhere to be found. These ad experiences aren't good for anyone - users, brands, or publishers - and a huge reason that ad blocking on mobile is on the rise. That's right - it's not just a desktop problem, especially since Apple's latest iOS rolled out last September allowed users to download these ad-blocking apps. How do we combat this reality? By developing better, more creative units.
We can hear you now - the media guys are blaming the creative, imagine that! But that's not what we're doing here. Beyond this being an industry-wide problem, there is some responsibility on media buyers to help publishers and vendors develop new tactics that better engage users on mobile. One we've written about on here before is Kiip - a mobile company that incorporates rewards to serve up discounts or offers from brands to consumers in-app, ie. you record 5 lbs lost in "Lose It" and you get a coupon for some Pop Chips. There are lots of applications for retail, CPG, QSR, and other consumer brands.
There is room for better creative to solve this problem though - and we've seen loads of them. Facebook rolled out a new immersive mobile unit last year that's really exciting to us. These Canvas units appear as normal sponsored posts in-feed but, when tapped, they expand to full screen and allow users to scroll through brand content - videos, pictures, web content. For the few brands that have been piloting this, the response has been incredible as users are spending more time on these units than with video. Follow the link above to see a couple of examples from pilot brands - Gatorade and Carnival.
Another good creative execution we have seen on mobile recently incorporates Virtual Reality. The unit is a 360-degree rich media unit that allows users to engage with content within the ad by tapping various sensors. Much like the Facebook Canvas ads, these ads from Outlyer Technologies allow users to engage with content without leaving the ad - which is vital for mobile when load times matter so much to decrease abandonment rates. There may be some technology hurdles as more consumers become aware of VR and what's needed to participate; but there's no denying that immersive video is the future, especially with Facebook's investment in Oculus and Youtube's announcement this week introducing live 360 degree video.
The applications for this unit are exciting - for theme-park or tourism brands to showcase a site or auto brands allowing a user to take a virtual walk-around of the latest model. We actually have a client rolling out a 360 degree online video campaign later this spring that will appear on mobile. With this better creative, we have no doubt that this campaign will deliver.
What good media ideas have you seen lately?