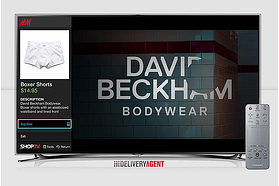 This month's good media idea comes to us from H&M and their Super Bowl TV spot they have planned featuring David Beckham's Bodywear line. The 30-second spot, when appearing on Samsung smart TVs, will feature a pop-up menu offering more product information, the option to send that info to another device, and even the ability to purchase product using your remote. It will remain interactive, even if viewed later through a DVR. This is all via a platform, Delivery Agent, that has been doing this for years.
Now how many macho dudes are going to pause the game (and their Super Bowl party) and start underwear shopping? Probably not a lot - but the idea is a good one (albeit technically a good creative or technical idea). Especially with the growth of internet-connected TVs (now over 1 in 4 homes) and smart TVs. This growth has been surprising so far, especially with the high pricetags of some smart TVs, like this Samsung 85" UHDTV coming in at $85,000 (you MUST read the reviews for a good laugh). But there is good news on the cost front. At this week's CES 2014 there were several announcements of more affordable units coming soon.
With that news, the trajectory of growth for smart TVs seems poised to only go up this year. Making spots interactive - like H&M is doing - utilizing the TV's internet capability, is only smart advertising and will no doubt affect how we put together media buys & plans in the very near future.
What good media ideas have you seen lately? Post a comment and share it with us!
McCulloch+Company is an advertising media services company that integrates the innovation of digital media with the strengths of traditional paths. Founded in 1984 and located in historic Roswell, Georgia, McCulloch+Company is regarded as one of the Southeast's preeminent media agencies. The agency is skilled at managing B2B and B2C clients in a multitude of industry categories. Click here to contact us for a free media plan evaluation.