When we launch a new campaign for a client, it is based on research and evaluation of all the different media channels available to us to promote their brand. This is the case when we launched an 11-week campaign for our client, Family Farm & Home (FFH), in early Spring.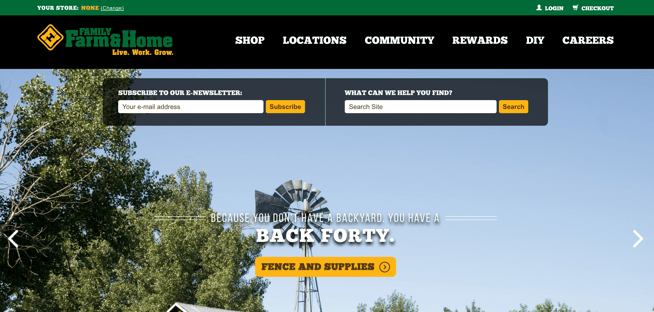 + Challenge
FFH operates 55 Home and Garden stores in Michigan, Ohio and Indiana. For this Spring campaign we were running a Husqvarna co-op program, which required us to follow certain criteria set forth by Husqvarna. During the planning kick-off call with the client, they were very specific with media placements and budgets associated for each. They selected 6 Radio markets for the message to air, which were also part of the 2015 plan, as well as wanted to include Outdoor (Ohio only), SEM/Digital and Direct Mail. The success metric for the campaign was driving more traffic to the stores, which equated to overall increase in sales.
+ Good Media Idea
McCulloch+Company developed a media plan that would focus on the key market areas designated by the client, while looking to implement new tactics not used in previous years. In an effort to track results via Digital, the plan eliminated the SEM and Direct Mail requests and reallocated those funds to focus on programmatic digital display.
+ Execution
Based on the initial media channel directives from FFH, McCulloch+Company developed a media campaign that included Radio, Outdoor and Programmatic Digital. FFH had never utilized Programmatic Digital placements before, so the inclusion of this tactic would allow us to deliver trackable media results that we could optimize in real time.
With the Outdoor focused on 9 stores in the state of Ohio, McCulloch+Company developed the Programmatic digital campaign around those same locations, along with 2 other Ohio locations, to provide a multi-channel media approach to the markets. McCulloch implemented a Zip Code targeted campaign through our in-house trading desk for each individual store location. For each custom geography, we utilized the top 10 sales zip codes for each location with additional zip codes added for smaller markets to provide overall scale to deliver the message. For our 3rd Party Data selection, we wanted to be sure that the audience was interested and implemented a "Lawn & Garden Enthusiasts" data set as our demographic target. Additionally, we delivered custom creative for each location with store location info to provide consumers with a more customized message, which also enhanced the customers overall experience with the brand.
While Radio market selections were dictated by the client, it was important that we developed an approach that would utilize the allocated budget in a way that would stretch the budget and produce sales results for client. For this, we implemented a Flighting strategy, with 3 weeks on air and one week off. This approach allowed us to deliver high GRP totals per week while also maximizing budget.
+ Success Metrics
At the conclusion of the campaign the client reported a 4% increase in overall store sales, along with a 200% increase in website page views. The Digital portion of the campaign delivered 3.2MM impressions, 7,002 clicks and an overall CTR of 0.22%.
The client indicated, "All in all, a very successful campaign. Thank you for all of your assistance and guidance throughout the campaign." It is feedback like this that confirms that all the work that goes into planning and optimizing a campaign is paying off with strong results and a happy client.