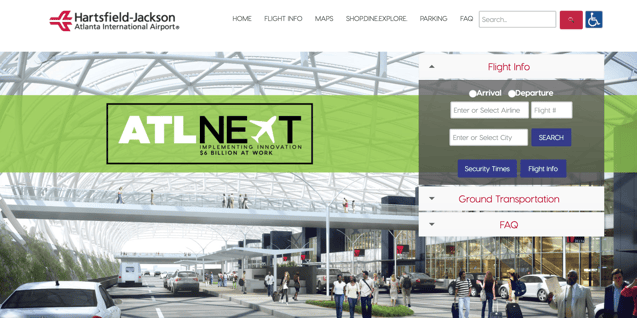 Client success is the cornerstone of what McCulloch+Company is all about, and one recent client success story was for Atlanta Hartsfield-Jackson Airport. With the launch of their new website and billion dollar renovation project, the airport was looking to get the word out to their customers.
+ Challenge
Develop a digital media campaign to support the launch of both the new ATL.com website and promote awareness of the $6 Billion dollar ATLNext renovation project. Success metrics for both campaigns was clicks to the websites, while showing an overall increase of traffic to the new ATL.com website.
+ Good Media Idea
McCulloch+Company developed a multi-channel digital campaign that would focus on the Atlanta metro area, with expansion into key surrounding states. In an effort to not flood the market with 2 different messages, the two initiatives were each a separate 4 week campaign.
+ Execution
The media strategy combined Google SEM, Programmatic Display and placement through the Expedia Media Solutions Network.
The airport had never implemented a Google SEM campaign, and based on the strong search results through the Google Keyword Planner, this approach was viewed as a strong vehicle for implementation. In addition to the Google SEM Text ads, a Google Display Network campaign was implemented for the ATLNext campaign, due to lower search volume, which focused on placements on local Atlanta news websites.
For the Programmatic Display campaign, McCulloch developed several tactics through our in-house trading desk, beginning with equal budget allocation between Desktop and Mobile, which was based on Google Analytics results from their previous website. The campaign tactics included retargeting, contextual and demographic targeting.
The Expedia Media Solutions Networks consists of several well known travel websites. The tactics initiated included targeting travels searching for flights to or from Atlanta, travelers who have already secured travel to and from Atlanta, as well as frequent fliers in the Atlanta market.
Throughout the campaign, each placement was analyzed and optimized towards the individual tactics within each that were delivering the strongest results, allowing for the campaign to have its best success.
+ Success Metrics
As a result of these media tactics, McCulloch+Company delivered a combined 6.3MM impressions, 13,111 clicks for an overall 0.21% CTR. The Google SEM program itself delivered 7,000 more clicks then estimated during the planning process.
To learn more about the Atlanta Hartsfield-Jackson Airport, be sure to check out their new online guide.
Be sure to check out our other case studies to see other client successes. If you want to be the subject of a successful case study in the future, contact us, we would love to work with you.