As an advertising agency, we work hard to craft media plans that are not just noteworthy, but actually achieve the goals of our clients. We don't just want to see if click-through rates are above benchmark, but also if site engagement was achieved, did the leads generated result in sales? Were more widgets sold? This reality is especially important in the auto industry where gross margins for dealers are growing ever thinner and shoppers ever savvier. We understand car dealers are in the business to sell more cars, and we're in the business to help them do that.
We have helped several car dealers drive traffic to their websites, receive more VDP views and engagement, more foot traffic and ultimately increase sales. Combined with compelling creative a smart multi-channel media plan brings more prospects to your lot ready to buy.
A recent success story of ours is with our luxury auto client, RBM of Alpharetta. We have worked with them since 2014, but this year's media plan posed its own set of challenges with new competition opening and the election cycle putting a squeeze on traditional media. To combat that we bought their traditional media annually to achieve the best rates and lock-in inventory well before things started heating up. But we also recommended they put more of their spend into digital advertising channels for several reasons:
Non-preemptable inventory
Can be geo-targeted to dealership's Area of Influence (AOI)
Car shoppers are shopping more online and less on lot with one recent study showing 46% of shoppers visiting only 1 store
Opportunity to leverage user data to find auto-intenders and nudge them towards buying
New compelling units that can showcase the luxury Mercedes-Benz brand
Here are a few of the tactics we employed:
Mobile Geo-fencing - We partnered with a mobile vendor to target around competing luxury dealers in the AOI and serve ads to our demographic in those areas. We also selected some high-profile destinations in our ZIP codes where prospective buyers may be. We've seen solid click-throughs and excellent engagement on the dealership's new mobile site they rolled out in late 2015 - another reason we picked this tactic.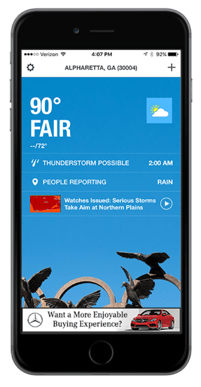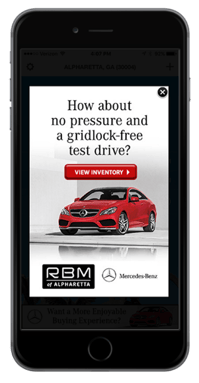 Pre-roll video - The client had a state-of-the-art 360 degree virtual test drive video created by Optimum Productions. It features a test drive of the 2016 GLE SUV which you can see below (make sure you try it out on your phone). We wanted to showcase this, but inventory for 360 pre-roll is limited (possible only on Facebook and Youtube when we were doing the buy). So Optimum created a 15 second teaser video to show a couple using the 360 video and we created a programmatic buy to reach our demographic. Completion rates and site engagement for those that click through have been excellent - way above auto industry benchmarks.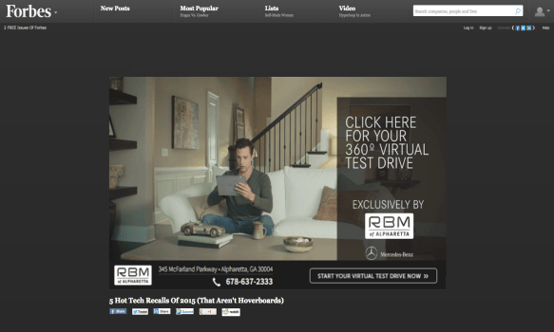 Programmatic Display - One other digital tactic we utilized was programmatic display, working with a vendor that has a partnership with some consumer companies in order to leverage their user data to find likely buyers in the dealership's geography. This tactic has delivered on the promise of programmatic - serving more impressions to the right users in a smart way using 3rd party data.
The Results - Sales volume is up year-over-year; as well as traffic and engagement on the dealer's website and foot traffic on the lot. We find that extremely gratifying and are happy to see the power of digital advertising, along with traditional advertising in the market, help this dealer sell more cars.
If you'd like to talk to us about how we can help your dealership sell more cars, contact us today.