The best media ideas are those that incorporate several media channels. For example an online video campaign that is supported with digital display, custom eblasts as well as on all active social channels. This month's good media idea is one such campaign and involves an integration between two traditional media channels - terrestrial radio and out-of-home. The campaign comes to us from London and started earlier this spring to promote Justin Bieber's latest album, "Purpose."
Here's the idea - whenever a song by The Biebs plays on a Capital FM radio station in the market, digital billboards around town switch to custom creative promoting the album and the song playing currently on the station. It's a novel idea which required new technology (a digital signage company created the code that triggers the creative switch) but it is this novelty that definitely makes an impact. This is a surround-sound, real-time, out-of-home takeover that will no doubt cause a lift in album sales. It also promotes a media channel that could use a boost in the increasingly crowded field of audio listening options. Sure, the execution of this idea requires the temporary bumping of other rotating creative on the digital boards - and for that Bieber is 'Sorry.'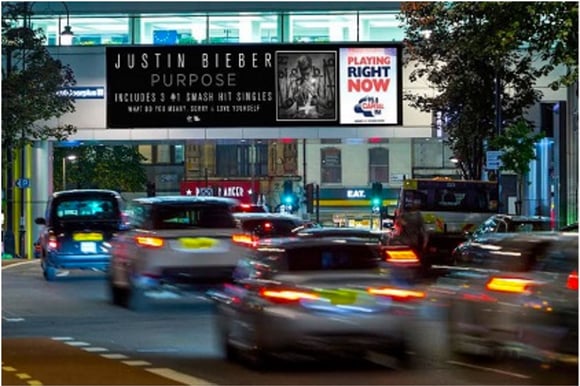 Read more about this idea here. As digital billboards become more prevalent in markets across the country, there are more options and exciting ideas that can be executed. Another we have seen involves integration between mobile and out-of-home, ie. serving a custom mobile unit when a prospect comes near or drives by a billboard location.
What good media ideas have you seen lately?
McCulloch+Company is an advertising media services company that integrates the innovation of digital media with the strengths of traditional paths. Founded in 1994 and located in historic Roswell, Georgia, McCulloch+Company is regarded as one of the Southeast's preeminent media agencies. The agency is skilled at managing B2B and B2C clients in a multitude of industry categories.